About the founder - Sri. M. S. Ramaiah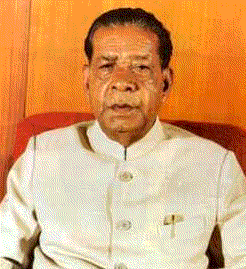 Industrious and enterprising, an Engineering Contractor of all India repute, a person with a lavish common sense, Sri. M. S. Ramaiah founded "Gokul Education Foundation" in the year 1962 as one of his bold ventures to perform service to society through a private educational system, without looking for any form of assistance from other agencies. Under the aegis of this foundation was born "M. S. Ramaiah Institute of Technology" in the same year. Much needed engineering education and an access was provided to all those who had been denied such an opportunity till then, in all parts of the country and outside.

Sri. M. S. Ramaiah who is widely hailed as a visionary, educationist, industrialist and philanthropist saw to it that the institution, which commenced with only two disciplines, grew by leaps and bounds over the years. The institution now boasts of offering Bachelors programs in twelve disciplines namely Civil, Mechanical, Electrical & Electronics, Electronics & Communication, Computer Science & Engg, Industrial Engg & Management, Chemical Engg, Instrumentation & Electronics, Information Science and Engg, Medical Electronics, Telecommunication, Architecture, and Masters programmes in three disciplines namely Structural Engg. Manufacturing Science and Engineering and Computer Applications.

M. S. Ramaiah Institute of Technology has carved out for itself a big name all over the country and is recognized as a premier educational institution in India. It abounds in well equipped and sophisticated laboratories, well stocked libraries and highly qualified staff.

In 1979 Sri. M. S. Ramaiah founded M. S. Ramaiah Medical College and thereafter brought into existence without a break at regular intervals M. S. Ramaiah Medical Teaching Hospital with various super specialities, M. S. Ramaiah Dental College, M. S. Ramaiah Institute of Nursing Education and Research, M. S. Ramaiah College of Law, M. S. Ramaiah Institute of Management Studies, M. S. Ramaiah Institute of Hotel Management, M. S. Ramaiah Institute of Physical Medicine and Rehabilitation, M. S. Ramaiah College of Arts, Science and Commerce; M. S. Ramaiah Polytechnic, M. S. Ramaiah Composite Junior College and M. S. Ramaiah Vidyaniketan.

Sri. M. S. Ramaiah, who thus toiled incessantly and untiringly from the year 1962 and founded a galaxy of institutions in the firmament of education and service to humanity, plunged us into deep grief when he left us to join the lotus feet of the Lord of December 25, 1997. However his noble children did find solace and consolation in taking over the management of his institutions and continuing the work from where he left. Remembering the cherished wish of their father, founder of this gigantic complex of educational institutions who dedicated himself to causes of social relevance, his illustrious sons have embarked upon several more projects for the benefit of society at large.
---
The College
The building complex housing MSRIT is known as Vidya Soudha. M.S. Ramaiah Institute of Technology is located in the city of Bangalore, which is reputed as the hub of higher education in science and technology of India. The institution is beautifully surrounded by the academically excellent campuses of Indian Institute of Science and CPRI and ISRO and is situated adjacent to National Institute of Advanced Studies and behind Indian Institute of Science. The institution's sprawling campus area extends from M. S. Ramaiah Main Road to New BEL Road and has one of the largest among all the educational institutions Bangalore is internationally known as Silicon Valley of Indian where Software houses like IBM, Motorola, Texas Instruments, Siemens, Wipro and Infosys are located and is world renowned for its giant establishments like HAL, BEL, HMT, ITI, BHEL, NGEF, CMTI and IPIREE.

MSRIT was originally affiliated to the Mysore University, then to the Bangalore University and presently stands affiliated to the Visveswaraya Technological University from the year 1998. It is an institutional member of ISTE and isrecognised by the AICTE.

The Institution has well qualified and competent in staff, backed effectively by vibrant infra-structure which include well equipped advanced laboratories, exhaustive library, sports complex, students home, etc., supporting the immense needs and expectation of the innumerable students entering the college.

Some of the out standing features are :-
Admission through common entrance tests, conducted by the Government of Karnataka
Dedicated Computer Centers for each department.
Societies/Associations in every department to promote circular and co-curricular activities.
Seminar halls equipped with P.A. and visual systems for each department.
Main auditorium of 650 Seats capacity.
Mini Conference Hall of 200 Seats Capacity which state of the art audio/video projection facilities.
Access to internet services from every department is being arranged.
Founded projects from organisations such as, AICTE, ARDB, KSCTC, & DST are being undertaken.
Students carry out the project works at reputed organisations in Bangalore such as the IISc., ISRO, HAL, NAL, C-Dot, C-DOC, BHEL, BEL, ABB, ADA, ADE, CPRI, DRDO, KSDL. Etc.,
R&D center for Ph D, students in Civil Engineering Department is unique.
Consultancy cells in different departments interacting with organisations like CPRI, Tar Steel, Research Foundation, BDA, BCC, MES & many other private bodies have been setup.
Regular short term QIP courses for teachers are held.
An active placement center organizing campus selections interviews etc., to launch students on carries at prestigious industries, public undertakings and multinational companies.
Student of our institutions hold a major share of the ranks declared by the Bangalore University every year.
Students chapters of IE, IETE, etc., have been functioning well.
The institution has a large number of Doctorates among its faculty members.
---
An Introduction
Wide variety of programmes are offered at M.S.R.I.T we are seeking applicants who have the ability, motivation and creative instinct to be able to make a significant contribution to the society and M.S.R.I.T. assures a challenging and rewarding programmes.

The faculty of engineering is actively setting standards of excellence in many areas of both re-search and teaching.

Engineering to-day is about the translation of ideas into achievements by designing and making things for the benefit and use of mankind. It is both a science and art, requiring imaginative technological, management and business skills to create systems, devices, machines and structures. Today the challenge is to achieve quality at an acceptable cost and to maintain or enhance the environment.

Engineering projects now increasingly involve multinational teams and deal with complex multi disciplinary issues. A professional engineer needs not only a wide knowledge engineering technology and design techniques, but must have the ability to make a constructive contribution as member of a teacher. As a career, engineering is stimulating to pursue and can provide personal satisfaction in both the national and international environments.

Our laboratories are well provided with modern equipment. M.S.R.I.T. offer under graduate programmes in 12 disciplines of engineering and two post graduate programme leading to Master's of engineering. We undertake consultancy work and re-search projects with national laboratories and councils.

All the U. G. programmes are of four years duration. These programmes are often re-designed to meet the new technological and professional challenges. The structure of the programme is comprehensive and to enhance further their quality.

With these programmes we aim to provide the student with a better opportunity to develop engineering and design capability while acquiring qualities of well educated professional.

These aims are met by :
Including some common units which provide link between disciplines.
Integrating project activity to deal with multi discipline issues.
Considering unifying nature of problems such as energy, transport, the Environment and the systems approach to engineering.
Employing modern teaching resources and methods such as computer aided learning, guided reading and self development.
Learner centered programmes.
Teaching Methods
Engineering is a creative activity in which knowledge is expanding and dynamic rapidly. The approach is to teach the basic principles of engineering together with ways of thinking which will be needed to keep up future developments.

Lectures are an integrated part of all programmes. In the first two years - lectures are supported by examples classes - tutorials at which students are helped to solve problems designed to increase the understanding of the technical subjects. Laboratory work is an important part of the programmes. It provides first hand experience of the behaviour of engineering devices, structures and systems and valuable practice in using instruments. Programmes include a wide range of open ended project problems. Throughout each programme student will undertake shorter, mini projects, including case studies, group design projects and in depth investigation as well as giving presentations or short talks on technical subjects.

In pre final year student identifies an industrial or re-search project from an industry or national laboratories, and carryout investigation execution, testing, demonstration though fourth year. Either they work alone or in a group. The challenge of tackling something new and possibly unknown is highly stimulating and the students regard this as per the highlight of their under graduate experience.

Mathematics is include in the first two years of four years programme and is followed by more advanced topics in some disciplines as per the demand.

All students admitted to engineering programme learn computing and programming and have access to PCs on network. Advanced computational techniques are taught in some disciplines of engineering in their later years of study.

Few courses of economics, management principles also included to prepare the students to apply these skills whenever needed in the real life.

Lectures and seminars are arranged both in house and by invited experts from the industry or re-search organisation from national laboratories.

Assessment
Written examinations are set at the end of semester and in addition there is continuous assessment of laboratory work design project and tutorial work. Students should normally pass each unit. Retaking of papers are allowed. All papers are evaluated for a max. of 100.

Career Opportunities
Product of this institution go for variety of occupation Marketing, Maintenance, Design and Development, Teaching Manufacturing entrepreneur, software engineer, Manager etc., Some opt for higher studies before going to industry or research careers. MSRIT engineers are absorbed and highly valued by MNC's. Many have reached eminent positions and are running their own company's even in USA.

Admission
Who goes into M.S.R.I.T? Through C.E.T. normally 45,000 write the examination. MSRIT will get top 5 to 8% students i.e. opt for MSRIT. Admission is solely based on the academic performance and qualification. 12 years of schooling is required for admission on to engineering.
---
Back to main page